| | | | | |
| --- | --- | --- | --- | --- |
| Output Voltage | Output Current | Power | Mounting Style | Input |
| 250Vdc | 200A | 50kW | Cabinet | 575Vac 3PH |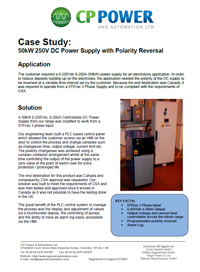 FEATURES: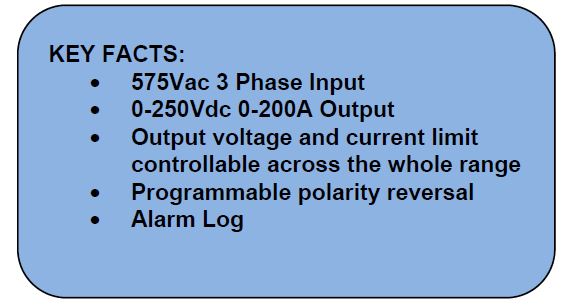 Application
The customer required a 0-250Vdc 0-200A (50kW) power supply for an electrolysis application. In order to reduce deposits building up on the electrodes, the application needed the polarity of the DC supply to be reversed at a variable time interval set by the customer. Because the end destination was Canada, it was required to operate from a 575Vac 3 Phase Supply and to be compliant with the requirements of CSA.
Solution
A 50kW 0-250Vdc, 0-200A Controllable DC Power Supply from our range was modified to work from a 575Vac 3 phase input.
Our engineering team built a PLC based control panel which allowed the customer access via an HMI on the door to control the process and change variables such as changeover time, output voltage, current limit etc. The polarity changeover was achieved using a complex contactor arrangement whilst at the same time controlling the output of the power supply to a zero value at the point of switch over for extra protection / prolonged life.
The end destination for this product was Canada and consequently CSA approval was requested. Our solution was built to meet the requirements of CSA and was then tested and approved once it arrived in Canada as it was not possible to have the testing done in the UK.
The great benefit of the PLC control system to manage the process was the display and adjustment of values via a touchscreen display, the controlling of pumps, and the ability to have an alarm log easily accessible via the HMI.