DIN Rail Power Supplies are a common requirement, with a lot of choice. There are many manufacturers, varieties and requirements when selecting a power supply which is why we do our best to offer a wide range of options to choose from. From well-known manufacturers like
PULS
and
Meanwell
to our own range of
Reign Power
products, there are many points to consider when looking for a PSU which is why we are here to help and advise.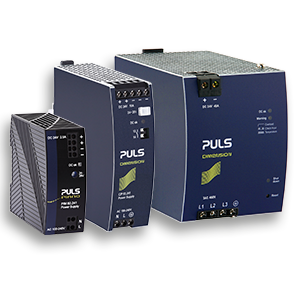 As stockists of Meanwell and PULS, we can offer pricing on any of the power supplies provided by either manufacturer. If you have an ongoing requirement for one of their power supplies, let us know as we will be able to offer price and availability on your existing products as well as advice on alternatives that may be lower cost or on a quicker lead time. With Meanwell power supplies constantly evolving, we can offer advice on superseded ranges, so you know which unit is best placed to replace your current options. Or for PULS units, we can advise on availability for your current units as well as the many options available within each PULS range.
Whether you're looking for large quantities of the same power supply, or you just need a quick cheap solution to power your application, as we keep the Reign Power range of power supplies in stock, we can quickly meet your demands for low cost, in stock PSUs. Whether you require 24Vdc or 12Vdc units, it's certainly worth considering the Reign Power range of products. And if you have any questions on any of these units, we are here to help.

Sometimes a simple DIN Rail PSU isn't enough, and you require a power supply with a specialist requirement. We can offer DIN PSUs with battery back-up, for those requirements that need to stay online. Or maybe you require something with specific certifications like ATEX or EN-50155. We appreciate that your requirement may not be met by most power supplies, so feel free to contact us with your requirements so we can point you in the right direction.